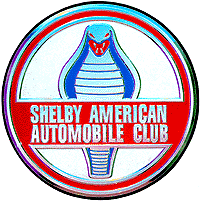 SAAC-27
California Here We Come!

California Speedway Fontana, CA
click here for printable registration form

Well, it took some doing but we finally found a major league race track in southern California that had an open weekend in early July. It helps when the track is brand new so we don't have to compete with other groups who have been using it steadily year after year and get first choice of dates. Does it get any better than this? You be the judge. California Speedway is already recognized as one of the best high-banked ovals in the country. The 2-mile D- Shaped track already hosts a Winston Cup event in the spring and a CART open- heel champ car race in the fall. By the time SAAC hits town in July of 2002 the new road course will be completed, expanding the combination of banked oval and infield road circuit to 2.8 miles.
Vintage racing, as we know it today, started in California, and it's popularity has been steadily building for the past 25+ years. This means there is no shortage of Cobra, Shelby and GT40 vintage racers on the left side of the country and unless we miss our guess, SAAC-27's vintage event will have a full grid. We've already heard that some of the more predatory east coasters are looking into transportation so don't expect it to be a West Coast Only show.
We had a Shelby American Team Reunion at SAAC-25 and we were fortunate that about 40 former independent and team drivers, crew members, fabricators and technical personnel were able to join us. That's an astounding number when you consider that about 70% of those associated with Shelby's various automotive endeavors live in California. The mailing list Bob Shaw has developed through his Shelby American Employee Registry has grown to about 175 names. We're going to invite each one and unless we miss our guess, this reunion will be the largest one ever held. Both the Friday and Saturday evening programs will be dedicated to their exploits.
We're also planning a unique tour of the southern California area on Thursday... by buses.... which will land you at some of the best known locations in Shelby American history if we can work things out: the Los Angeles Airport facility, Venice, Hi-Performance Motors, Shelby's facility in Gardena, Dean Moon's shop, what's left of Riverside Raceway and maybe a few more places you've heard about. We'll stop for lunch somewhere interesting, and it will probably take most of the day. We should be able to get at least one Shelby American team member on each bus to provide a little color commentary and answer questions. Participants will receive a unique pin at each stop and by the end of the day they will have a sizeable collection.
SAAC member Lynn Park, the President of the Cobra Owners Club of America and also known as "Mr. Cobra" in southern California, has been organizing a Cobra Day at the Petersen Museum for the last few years. His goal was to attract 100 genuine Cobras for a group photo. The record stands at about 85 and we're hoping that SAAC-27 will provide the enticement for him to get the elusive 100 examples together for a group photo at California Speedway.
SAAC-27 AT A GLANCE
THURSDAY - begins with a bus tour of the locations where Cobra and Shelby history was made. We'll see the Venice Cobraworks, the LA airport factory, Hi-Performance Motors, Shelby's current facility in Gardena, Dean Moon's shop and we'll stop at what's left of Riverside Raceway. We'll grab a quick lunch along the way and should be back at the hotel before 5 pm. Just in time for early registration and tech inspection.
FRIDAY - the track opens at 6:30 a.m. along with Registration and tech inspection. Driver's meeting is at 8:00 am sharp - everyone driving that day must attend or they will not get out on the track. First Timer's Class (for everyone who has never driven a SAAC open track event before) follows the driver's meeting. The Vintage Race Driver's Meeting follows that. Open track sessions begin at 9 am. Five different run groups are on the track for 15 minutes; each will have two different sessions before lunch and two after lunch. During lunch all cars which have passed tech will be allowed on the track for 2 laps to give 50 MPH Kids Rides. The Swap Meet will run all day. The last run group of the day, composed of wives and girl friends who want to drive without the pressure of a full field of cars, will wind up about 5 pm. The track will close at 6:30 pm and will be secured overnight. Back at the Hilton there will be a buffet dinner, followed by a speakers program of Shelby team members and ex- employees. Bar opens at 6 pm, dinner served at 7 pm and the program will begin about 8:30 pm. We expect between 50 and 100 ex-Shelby people to be there.
SATURDAY is a repeat of Friday as far as the open track, tech and swap meet go. A meeting of all Concours Entrants will be held at 8 am in the Timing & Scoring Room. The actual judging will begin at 9 am with winners names posted about 3 pm. At 12:15 all original Cobras will be parked in the Hot Pits for a group photo. And at 1:00 pm there will be a lunch and autograph signing for former Shelby American Drivers, Team Members and Employees. It will be in the garage area (look for signs). The track will close at 6:30 pm. Back at the Hilton there will be a buffet dinner, followed by a speakers program. Bar opens at 6 pm, dinner served at 7 pm and the program will begin about 8:30 pm. Expect it to run until about 11 pm.
SUNDAY is a rerun of Friday and Saturday morning, as far as the open track, tech and swap meet go. The popular Vote Car Show will take place with balloting beginning at 10 am. At 12 pm voting stops. Winners' names will be posted at 3 pm in the car show area. At 2:35 pm the 10-Lap Cobra/GT40 Vintage Race will take place, followed by the 10-Lap GT350/Trans-Am Vintage Race. The track will close at 6:30 pm.
SAAC-27 SCHEDULE OF EVENTS
Please note......Times listed here are subject to change. Any changes will
be posted at SAAC Registration.

THURSDAY JULY 4, 2002
8:00 am SAAC Magical History Tour (Hilton Ontario Airport)
1:00 pm Early Registration (Hilton Ontario - closes at 8 pm)
5:00 pm Tour Returns (time approx.)
7:00 pm Tech Inspection (Hilton Ontario - closes at 10 pm)

FRIDAY JULY 5, 2002
6:30 am SAAC Registration (California Speedway)
6:30 am Tech Inspection (Tech Garage - G2)
8:00 am Parts Swap
8:00 am Open Track Driver's Meeting (Tech Garage - G2)
8:30 am Open Track First-Timer's Class (Tech Garage - G2)
8:45 am Vintage Race Drivers Meeting (Tech Garage - G2)
9:00 am On Track Sessions Begin
12:15 pm Lunch Break / Kids Rides
1:15 pm On Track Sessions Continue
3:00 pm Concours Judges Meeting (Timing & Scoring)
6:30 pm Track Closes
7:00 pm Dinner (Hilton Ontario Airport)
8:30 pm Shelby Team Reunion (Hilton Ontario Airport)

SATURDAY JULY 6, 2002
6:30 am SAAC Registration (California Speedway)
6:30 am Tech Inspection (Tech Garage - G2)
8:00 am Parts Swap
8:00 am Open Track Driver's Meeting (Tech Garage - G2)
8:00 am Concours Entrants Meeting (Timing & Scoring)
8:30 am Open Track First-Timer's Class (Tech Garage - G2)
9:00 am On Track Sessions Begin
9:00 am Concours Judging Begins
12:15 pm Lunch Break / Kids Rides
12:15 pm Original Cobra Group Photo (Hot Pits)
1:00 pm Shelby Team Reunion Lunch / Autograph Session
1:15 pm On Track Sessions Continue
3:00 pm Concours Winners Posted (time approx.)
6:30 pm Track Closes
7:00 pm Saturday Evening Dinner (Hilton Ontario Airport)
8:30 pm Saturday Evening Program (Hilton Ontario Airport)

SUNDAY JULY 7, 2002
6:30 am SAAC Registration (California Speedway)
6:30 am Tech Inspection (Tech Garage - G2)
8:00 am Parts Swap
8:00 am Driver's Meeting (Tech Garage - G2)
8:30 am First-Timers Class (Tech Garage - G2)
9:00 am Open Track Sessions Begin
10:00 am Popular Vote Balloting Begins
12:00 pm Popular Vote Balloting Ends
12:15 pm Lunch Break / Kid's Rides
1:15 pm On Track Sessions Continue
2:35 pm Cobra / GT40 Vintage Race
2:55 pm GT350 / Trans-Am Vintage Race
3:00 pm Popular Vote Winners Posted (time approx.)
6:30 pm Track Closes

POPULAR VOTE CAR SHOW
SAAC's Popular Vote Car Show is exactly as the name implies. During a 2-hour period on Sunday (10 am - 12 noon) spectators and car owners may vote for the cars they like best in any of 43 classes. Virtually all cars are eligible and you do not have to be a club member to enter. The winner in each class is the car receiving the largest number of votes.
To vote, all you have to do is pick up a ballot sheet at Car Show Central and separate it into individual ballots for each class. Look the cars over and place a ballot it in the envelope attached to the windshield of the car of your choice in each class (or as many classes as you want to vote for). Voting takes place between 10 am and 12 noon. At noon owners turn in their envelopes. The ballots are counted and the totals recorded. Winners (usually a surprise to everyone) are posted at about 3 pm. Trophies will be engraved and mailed to the winners.
Classes are:
65 GT350
66 GT350
66 GT350 H
67 GT350
67 GT500
68 GT350
68 GT500
68 GT500KR
69 GT350
69 GT500
70 GT350
70 GT500
BOSS 302
BOSS 351
BOSS 429
260-289 COBRA
289 COBRA COMPETITION
427 COBRA
427 COBRA COMPETITION
CSX4000
AC MK IV
FORD GT
GT350 R-MODEL
TIGER
TIGER COMPETITION
PANTERA
PANTERA COMPETITION
SHELBY COMPETITION
SHELBY SERIES 1
64-68 MUSTANG STOCK
64-68 MUSTANG MODIFIED
69-73 MUSTANG STOCK
69-73 MUSTANG MODIFIED
74-85 MUSTANG STOCK
74-85 MUSTANG MODIFIED
86-02 MUSTANG STOCK
86-02 MUSTANG MODIFIED
SPL. EDITION MUSTANG FORD-BUILT
SPL. EDITION MUSTANG - NON FORD
COBRA KIT CAR
SPECIAL INTEREST
SPECIAL INTEREST EXOTIC
SPECIAL INTEREST COMPETITION

CONCOURS CAR SHOW
The CONCOURS is a judged competition open only to SAAC National members who must register in advance. These cars are judged against a standard based on authenticity and workmanship with a total of 450 possible points. Cars must pass an operational check which includes the demonstration of an entry's driveability. A penalty is assessed for the vehicle's failure to start. There are 3 separate tiers in concours competition.
DIVISION I is for the stock/original car, equipped as it came from the factory, with original or NOS parts and only factory-available options. In addition, Gold, Silver and Bronze level awards, a Premiere level award is available in this division. Cars achieving this level are retired into an honorary display category for four years. These cars receive a prominent display location during that time and raised/show displays are encouraged. These cars are also considered for the Concours Chairman's discretionary award.
DIVISION II is for non-NOS cars, permitting full points for non-NOS replacement and reproduction parts that match the fit, finish and appearance of original parts. Options available on a that model are acceptable whether or not they were on this particular car when it left the factory.
DIVISION III is for unrestored cars. This Survivors Division is intended to save the remaining original/unrestored cars. Survivors are reviewed only for authenticity, and are judged differently than the other divisions in order to preserve the remaining "originality" of each car.
All concours cars are judged against a standard, and not against each other. This means if all cars in a class attain a prescribed minimum number of points, they would each receive an award. Concours classes are: 1965, 1966, 1967, 1968, 1969-70 Shelby, Cobra, Boss, Tiger, Competition and Survivor. All other cars are eligible for the Popular Vote car show.

CONVENTION QUESTIONS and ANSWERS

If you've never been to a SAAC convention before you're in for a real treat. To make the event even more enjoyable we've put together this list of most commonly asked questions by first-timers. We've held 26 national conventions prior to this one, and everyone was a first-timer at some point. Don't be bashful - we're all here for the same purpose: to have fun and enjoy these cars. You will find SAAC members especially friendly and receptive.

Do you have to be a SAAC member to enter a car in the popular vote car
show?
No. Entry fee is included with your registration. On Sunday morning you will be directed to the car show location, inside the track. You will be given a windshield card and an envelope for the ballots and told where your class is parked. Once you're parked, fill out the card and place it under your windshield wiper. Tape the envelope to your car's windshield and between 10 am and 12 noon, people will vote by placing ballots into the envelope of the cars of their choice. At exactly 12 noon all owners must turn in their envelopes to Car Show Central. Winners are determined by the largest number of votes in each class. Winners' names are posted at Car Show Central as soon as the results are determined. Trophies will be custom engraved and mailed out following the convention.
Do you have to be a SAAC member to drive on the open track?
Yes. However it is possible to join the national club at the convention (annual dues are $47.00). Don't get your hopes up, though. Most of the open track spots are filled by those who have pre-registered. Occasionally there are last minute cancellations and these openings are filled at the Driver's Meeting, first come - first served. If you want to drive, you'll have to attend the driver's meeting at 8 am (in the Tech Garage) and find out if any spaces are available. All cars must be Ford powered and must pass a strict technical inspection. In some cases the technical requirements are very specific (roll bars for all convertibles, dual throttle return springs, radiator coolant overflow catch can, Snell SA 95 or newer rated helmet) so for this reason we strongly suggest pre-registration. Driving on a race track at high speeds is something that should be planned for in advance - not to satisfy some spur-of-the-moment urge. Most would-be drivers who decide to participate at the last minute can't get their cars through tech inspection. You need to plan ahead to avoid disappointment.

Can I get a ride around the track?
In the past we allowed drivers to take passengers in the last session of the day, but due to the demand that we offer open track participation in half-day increments the schedule no longer allows it. A second consideration against rides is that in the event of an accident resulting in the injury or death of a passenger, it is almost certain that the club and its officers would be sued, and we'd rather not, thanks. Our risk just isn't worth your reward.
Can anyone attend the dinner and evening programs?
Yes. Only 600 dinner tickets are available on each night. Any which are not sold via pre-registration can be purchased at registration on Thursday, Friday or possibly Saturday morning. We must give the caterer an exact number of the dinners we will require in advance, and tickets are usually sold out by the morning of the dinner so we can't make any promises. Occasionally we get last minute cancellations. If you have not pre-registered and would like to join us for dinner, check at the registration tent, just outside of the tunnel, to see if tickets are available.

If dinner tickets are not available, can I still attend the Friday or Saturday evening programs?
Of course you can. Dinner tickets are collected as each person enters the dining area. Once the meal is over people will move out into the hotel's lobby while tables are broken down and replaced with theater-style seating. At that time anyone can get a seat. We expect the Friday or Saturday evening programs of guest speakers to begin about 8:30 pm and run until 10:30 pm.

What can I expect when I attend the convention, beyond seeing all the cars?
The SAAC national convention is a perfect place to do some first-person research. There are usually a good selection of parts for sale at the swap meet, and this provides an excellent opportunity to evaluate or confirm prices (whether you are buying or just wondering what something you have or need might be worth). Many of the Shelby parts suppliers who advertise in national publications are there. You can talk to them and also compare parts side by side. If the part you are looking for isn't there, chances are you can turn up a lead on where to find it.
What's the deal with the 100 Cobras?
The last time 100 Cobras were in the same place at the same time was at Shelby American's factory at the edge of the LA airport. Recent attempts to gather up 100 original snakes at LA's Petersen Automotive Museum have come close (85) but that magic 100 number hasn't been reached. We're going to try to get to it at SAAC-27. We'll take the official count at noon on Saturday. They'll all be parked together for a group photo. Will we make history? You'll have to be there to find out!
Beginning a restoration project?
You can look at a wide variety of cars, comparing them for details and examining production deviations. Talking to their owners will provide information that is simply not obtainable through books or video tapes. You can also take pictures or videos of your own, capturing specific details which then become invaluable aids in restoring your car when you get back home. You will be able to talk to owners and get references for people and businesses who did the bodywork, paint, mechanical work or detailing. In many cases they will also be there, and if so, you can talk to them in person. You can see examples of their work and then make your own judgements. You'll also be able to pick people's brains for restoration tips, car care methods and automotive products. Concours judges will be there and nobody knows the cars better than they do. They are always happy to share their knowledge.

Buying a car?
A national convention will probably have at least one of the year and model you are looking for for sale right there - and usually a lot more. Instead of answering individual classified ads and traveling long distances to look at one car at a time, you'll be able to see several cars and compare them, side by side. You can also talk to owners of cars which are not for sale; they will be happy to provide you with their opinions as to condition, price and value of the cars which are. And you can compare the cars for sale with dozens of others just like them to help you determine if they are fairly priced.

Selling a car?
The convention is the perfect place to expose it to a large number of potential buyers. A fair number of convention attendees are there to buy a car. It's also not uncommon to find dealers selling cars. There is a minimal charge to park a car in a special area of the swap meet where it will get maximum exposure. Otherwise, you can put a sign on it, park it in the general parking area, cross your fingers and hope the right person sees it.

Interested in factory showroom literature, memorabilia, books, magazines,
models and collectibles?
There are usually a half dozen vendors who specialize in this area of the hobby and they have a wide selection of things. Stuff you never dreamed existed. Instead of responding to a classified ad, you will have the chance to hold an item in your hands and examine it before you buy. Again, if you want to sell, this is the perfect place. Bring your stuff along with a comfortable lawn chair and a folding table. If you just want information about literature and collectibles, the convention attracts the most knowledgeable Shelby memorabilia collectors in the country who will be happy to talk about this stuff until the track closes.
Do I have to sign up in advance for a space at the swap meet?
No. All spaces are parceled out on a first-come, first-served basis. You do not have to be a SAAC member. Spaces cost $10 per frontage foot for all 3 days - Friday, Saturday and Sunday, payable on Friday after you set up. This year all spaces will be on asphalt but they will be in the shade.
How can I get Carroll Shelby's autograph?
Mr. Shelby plans to attend this year's convention and he always makes himself available to sign autographs. The trouble is, we never know when or where - and usually neither does he until he gets there. Shelby American will have a large tractor trailer in the paddock area. Just ask someone with him. They should know.
What is the Shelby American Reunion all about?
In conjunction with this year's convention, we've invited every former Shelby American team driver, independent, crew member or company employee we can find. We expect between 50 and 100 of them to attend. They still love these cars and they are happy to share their experiences and remembrances. This is an excellent opportunity for you to get a peek into Shelby history... and get some autographs. There will be a special Shelby Reunion Lunch on Friday and tickets will be available if you would like to spend some time with these guys. Check at registration for details.
What about camping?
California Speedway does not allow overnight camping inside the track. There are acres and acres of parking outside the track but there are no electrical, water or sanitation hook-ups for campers. RVs will have to move back into the track's interior each day.

PLEASE CONTACT SAAC HQ WITH YOUR MAILING ADDRESS AND WE WILL SEND YOU PRE-REGISTRATION AND OPEN TRACK FORMS:
SAAC HQ
P.O. Box 788
Sharon, CT 06069
(860) 364-0449 phone
(860) 364-0769 fax
saac@discovernet.net email